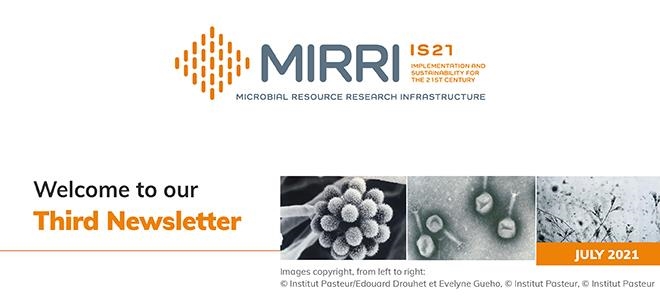 The IS_MIRRI21 Newsletter #3 has been issued.
Here are some of its highlights:
MIRRI receives a delegation from the European Council
Four researchers awarded with funded access to MIRRI/IS_MIRRI21 facilities in 2021
The Joint Research Unit MIRRI-IT: status and undergoing activities
IS_MIRRI21 and MIRRI's participation in future events
Successful launch of IS_MIRRI21/MIRRI two matchmaking events
IS_MIRRI21 partners organize a public event for the World Microbiome Day 2021!
MIRRI launched its online platform at www.mirri.org
Register today and start receiving your copy of the IS_MIRRI21 Newsletters by email.
IS_MIRRI21 Newsletters intend to present the project to its wide-ranging target audiences and inform them about the relevant activities within the project and the achievements that the consortium expects to go in the direction of MIRRI's stakeholders' interests and aspirations.
IS_MIRRI21 challenges the users to communicate with it to continue strengthening the MIRRI community as never before and visit its website and social media to stay updated on IS_MIRRI21's activities.
See all IS_MIRRI21 Newsletters here.
Up to today, three issues have been delivered and you can reach them singularly:
Newsletter #1
Newsletter #2
Newsletter #3